Everyone needs to edit images at some point, but not everyone has the time to learn complicated super pricey image editing programs. This is why we created Acorn. Add text and shapes to your digital pictures. Combine images together to create your own. Work with layers to touch up your favorite photos or make something new from scratch. Do all this and more with Acorn.
New in Acorn 4:
Speed

Acorn 4 is a lot faster than its predecessors.  From applying selections and filters to large images to using Instant Alpha, everything is faster.

Non-Destructive Filters

Layer styles and filters are now merged together into a happy new UI. Chain filters together to create endless combinations of unique effects knowing you can always change your mind later on.

Curves

Adjust the tonal response and even the individual color channels to perfect the midtones, shadows, highlights, and contrast in your images.

Multiple Layer Selection

You can now select multiple layers and move, delete, or reposition them all at once.

Boolean Shape Operations

Union, subtract, difference, and exclude. Perform Boolean operations with multiple shapes to make complex vectors in your images.

Merlin HUD

With the new filter HUD, you can now directly manipulate the radius and center points for your filters right on the canvas.

Improved UI

Acorn's tools have been expanded and the tools palette is now a separate window. The windows have even been given a new coat of paint.

New Shape Tools

Stars, Arrows, and a Bezier anchor selection tool await you in Acorn 4. Modify the points of a star to create triangles, diamonds, and other variations!
Oh yeah? What else can Acorn do?
Retina Canvas

Acorn has native support for Apple's Retina displays. Your pictures will look absolutely stunning on your Retina MacBook Pro.

Text Tool

Acorn gives you control over your text in an easy to use interface. Everything is in the text palette from bold and italic to kerning and ligatures. There's even spell check.

Rotating Text and Shapes

Ask and you shall receive. Turn your text and shapes upside down and every which way. You've got it in Acorn.

Quickmask

Make your selections like a pro. Quickmask will allow you to zoom in and edit your selections like never before.

Instant Alpha

Powerful eraser tools like Instant Alpha make removing backgrounds and other unwanted pixels from your images both fast and fun.

Multi-Stop Live Gradients

Are two color gradients not enough for you? With Acorn's multistop gradients, you have infinite rainbows at your fingertips.

Vector Chops

In addition to being able to rotate your shapes, you can now convert text to bezier paths, add and subtract points, and have your edges snap to pixel boundaries.

PSD Import and Export

Improved support for loading PSD images, and for exporting your images as layered Photoshop files.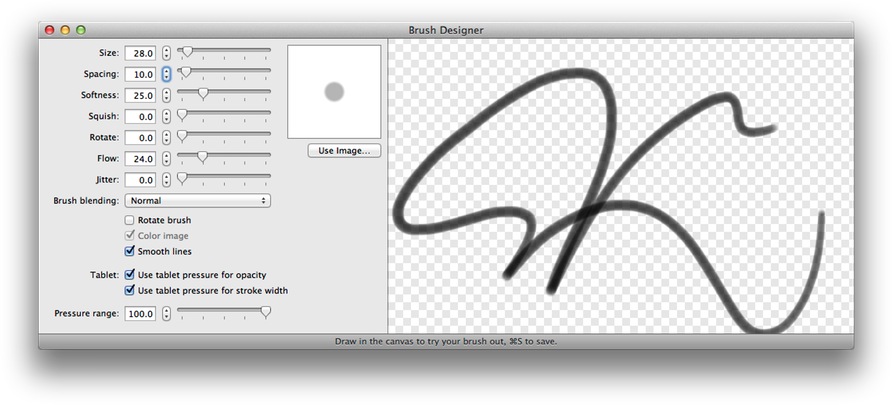 There's nothing else like Acorn's Brush Designer. Test out new brushes, adjust settings, and watch as it updates in realtime.
More stuff? You bet!
Web Export

Export your images as Optimized PNGs, JPEG, JPEG 2000, GIF, and even Google's WebP format.

Vector Tools

Make squares, circles and lines, and keep the flexibility to change things later on. Add and subtract points from Bezier paths and rotate your shapes with the flick of a wrist.  

Create Custom Brushes

Use Acorn's built in brush designer to create new brushes or alter existing ones. Test your strokes out and watch them instantly update as you change the settings.

Scriptable and Automatable

Automate Acorn using Automator, AppleScript, and JavaScript. You can even write custom plugins for Acorn using the Python scripting language, JavaScript, as well as Objective-C.

Filters Filters Filters!

Seriously- have you seen the filter panel? It's pretty amazing. Combine filters together in endless combinations and customize your own presets.

Screenshots

Acorn can create layered screenshots of every window you have open on your computer. It's magic.

Selections

Create different shaped selections, invert, feather, and even add a corner radius. Or, if you're looking to quickly select an entire color, try using the Magic Wand.

Layer Masks

Use layer masks in your image to block out unwanted areas of your image or to expose layers below.